Former Tourism Minister Sentenced to Six Years in Prison
Elena Udrea ex-Tourism Minister and one-time presidential candidate "sentenced to six years in jail, no parole, for bribery and abuse of office in a case related to the illegal financing by the Tourism Ministry of a boxing gala in 2011."
U.S. Department of State Report
The Human Rights Report in Romania for 2016 was released with Section 4 focused on corruption. 
Report
Massive Illegal Logging
The Environmental Investigation Agency (EIA/Washington, D.C.) Documents Illegal Logging in Romania by Austrian Schweighofer Co.  
Article

Rule of Law Vs Debt in European Countries Source:
Bloomberg BusinessWeek (
Click here
to enlarge)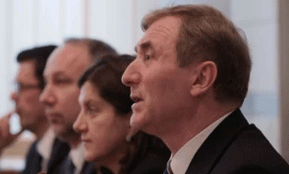 Dr. Augustin Lazar appointed new Prosecutor General of Romania
May 5, 2016 in Bucharest / 
Video clip (4 mn)
More than 1,000 Arrests:
Is Corruption Being Tamed by the DNA?
Read

Sept 2016 – Ex-Prime Minister Ponta money laundering charges & influence peddling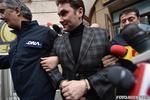 Dec 2015 – Dan Sova, Senator in Parliament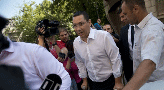 Sept 2015
– Indictment of Prime Minister Ponta on corruption charges.
New York Times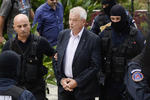 Sept 2015 – Sorin Oprescu, Mayor of Bucharest, arrested

Lft to rt:
Apr 2015 – Arrest of Darius Valcov ex-Minister of Finance
Apr 2015 – Ion Niculae "richest" Romanian arrested for illegal political donations
Apr 2015 – Arrest of Radu Mazare for multi-year corruption as Mayor of Constanta
May 2015 – Arrest of Gheorghe Nichita, Mayor of Iasi
May 2015 – Arrest of Cristian Poteras (seen with Ms. Udrea), Bucharest District Mayor, and 8yrs of jail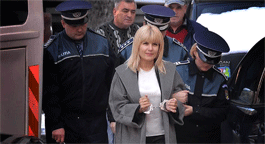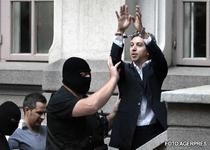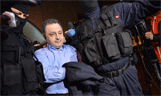 Feb 2015 – Arrest of Elena Udrea ex-minister and presidential candidate
Mar 2015 – Arrest of Dan Diaconescu media owner and politician
Mar 2015 – Victor Vanghele Bucharest District Mayor arrested