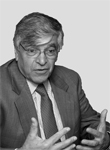 COMMENTARY - Oil Empires: Romania at the Crossroads
by Dan Dimancescu

Romania is once again at the heart of competing 'imperial' pressures. This time it is shaped by oil stakes that pit the world's powers, Russia, Europe, the United States and China against one another. By virtue of its strategic location along the Black Sea, Romania has become a major conduit point for Caucasus and Caspian Sea oil seeking routes to markets other than through Russia. The United States, in particular, has worked aggressively to establish alternate conduits for oil and gas around Russia. Afghanistan was viewed as one potential southerly transit country. Another is the Georgian route bringing Caucasus oil into to Black Sea harbors and into Turkey and Europe. The Baku-Tbilisi-Ceyhan (BTC) Pipeline, opened in May 2006, is the first fruit of that strategy with a 10 million barrel capacity.

A map (adjacent), of planned and projected pipeline conduits for Caspian Sea oil and gas sources, illustrates the geo-political importance to routes that by-pass Russia. It also emphasizes the new role given to Romania as a connecting point into Europe.

Cold war politics, as recently as the early 1980s, witnessed the Soviet Union establishing its control over oil and gas flows into Europe. During that period it negotiated long-term agreements with West European countries that created a dependency of up to 30% of their energy needs from imported flows. As one source put it: "The Siberian gas deal, known as "Russia No. 6" to the financing bankers, is a 2,800 miles gas export pipeline from the Urengoy gas field in Siberia to Uzhgorod on the Czech-Soviet border, where it feeds into the West European gas pipeline network. Daily throughput is 2.8 billion cubic feet. . . . In late 1981 and early 1982, long-term gas supply contracts based on the new pipeline were signed between the Soviet Union and gas distribution companies in West Germany, France, Austria, Switzerland, and later Italy. The new contracts significantly increased West European dependence on the Soviet Union for natural gas, in some cases pushing it above 30%."

And now, as reported in June 2005 in the press, Romania will be the starting point of a 1360 km (800 mile) pipeline reaching the Adriatic. "Countries to be crossed by the Constanta-Trieste pipeline have signed in Belgrade the treaty on approving the project, Oil Terminal Constanta manager Mihai Lupu said. Representatives of Romania, Serbia, Croatia, Slovenia and Italy will meet again on September 15 in Zagreb for talks on the financial resources, Lupu also said. The financial sources for the project have not yet been established, however the costs, depending on the construction alternative, would range from EUR 2.6 billion in the cheapest scenario to EUR 9 billion." [See: Bucharest Daily News - May 3, 2005]

This pipeline project puts Romania squarely into the 'big-stakes' oil game. It not only makes Constanta port an entry point but leaves the option open for a cross-Black Sea pipeline. The Constanta-Trieste line will create oil flows reaching 50-60 millions tons per year, equal to the amount currently shipped through the Bosporus Straights. Capacity of the same line is estimated at 112 million tons annually. Such flows imply significant transit incomes in the hundreds of millions in Euros but also abundant raw material to Romanian refineries . This will boost the growth potential of local refining companies such as Austrian controlled OMV/Petrom and RomPetrol. As far as the pipeline is concerned major foreign companies have reputedly shown interest: General Electric Energy Oil & Gas, China National Oil Corporation. Austrian (OMV) (Petrom's major shareholder), Chevron Texaco and British Petroleum.

Of equal significance are other pipeline projects that fit into a wider EU strategic vision known as INOGATE (Interstate Oil and Gas Transport to Europe). Two maps (adjacent) show the oil and gas pipeline networks envisioned for Europe. One component, a Turkey-Austria gas link, was put into play in May, when Transgaz (Romania) agreed in February 2005 to invest $800 for 457 km (270 mile) as one of five investors.* The whole line stretches along a 3400 km (2,500 mile) distance. It will pump an initial 4.5 billion cubic meters of gas and eventually reached 30 billion cubic meters a year. [* Other investors include: Botas (Turkey), Bulgargaz (Bulgaria), MOL (Hungary) and OMV Gas (Austria)].

"U.S. Secretary of Energy, Samuel W. Bodman, stated on May 25th in Baku, that 'Russian oil production is flat-lining [not increasing]. That fact is clear to both the Russian government and outsiders. It's in the interest of the United States to have greater alternative sources of supply.' The pipeline may provide one of those alternative sources. . . . Some analysts have said that the pipeline could offer an insurance policy against Russia's possibly tightening its grip on oil supplies from the Caspian." [New York Times, May 25, 2005, p. C6] See recent Russian oil connection in Baltic (more). And Sept 2005.

Given current pressures on oil demand, exacerbated by rapidly rising demand in China and India as well as the U.S. redrawing the geo-political oil boundaries in Iraq and the Middle east, it is evident that something big is going on. Because oil and gas flows - estimated as diminishing in quantity within decades - are the lifeblood of modern economies, Romania finds itself at a critical crossroads of those flows.

Copyright © D. Dimancescu, Cambridge, MA.


Jan 25, 2008 - HotNews.ro
Gazprom buys Serbia national oil operator
Jan 21, 2008 - HotNews.ro
Putin Russia/Bulgaria Energy 'heavy blow' for Romania?
Dec 28, 2007 - HotNews.ro
A freezing Nabucco?
November 16, 2007 -- Hotnews
Europe sees first natural gas line off Russian land
June 5, 2007 -- Jamestown Foundation
Caspian Energy Transit projects: "Time to Advance Talking to Acting"
May 24, 2007 -- Hotnews
Socar representative to Bucharest: Romania will be second gate for Azeri resources in Europe
May 24, 2007 -- Hotnews
OMV-Gazprom memorandum, a threat to Nabucco project?
April 3, 2007 -- Hotnews
Five countries to sign accord on Constanta Pipeline
January 16, 2007 --Jamestown Foundation
Hungary and the Nabucco Project: Time to End the Ambiguity
November 1, 2006 www.hotnews.ro
Russian energy monopoly makes Black Sea reforms difficult
October 13, 2006 www.daily-news.ro
Basescu tackles Nabuco project with Azeri counterpart
October 5, 2006 www.daily-news.ro
Russia not interested in Nabucco project
July 31, 2006 www.daily-news.ro
President argues for oil pipeline
June 26, 2006 - www.HotNews.ro
European Commission supports Nabucco project
February 15, 2006 - Bucharest Daily News -
Romania could cash in four billion dollars from the Constanta-Trieste pipeline
January 4, 2006 - Bucharest Daily News
Foreign Affairs minister: Europe needs alternative energy sources
December 22, 2005 - Bucharest Daily News
Constanta-Trieste pipeline could be constructed in 2007

ALSO:
Jan 25, 2008 - HotNews.ro
Gazprom buys Serbia national oil operator
HotNews.ro


The Russian - Serbian oil and natural gas collaboration agreement was signed on Friday in Kremlin after the meeting between the Russian president and the Serbian leaders, RIA Novosti informs. The agreement, signed for the following 30 years, includes the building of a natural gas transportation system on Serbian territory, so that the line with provide the fuel towards the Balkans and other European states.

Serbia will host 400 kilometers of the South Stream pipeline, which will have a transport capacity of over 10 billion cubic meters of natural gas per year. The construction of an underground natural gas deposit in Banatski Dvor will also be analyzed.

The building of South Stream through Serbia will transform the country in an important transit junction in the Russian gas delivery system providing European states.

Serbia and Russia also signed an agreement for the sale of the national oil operator, NIS (Natfna Industrija Srbije), to Gazprom Neft. Gazprom will buy 51% of the of stock for some 400 million euro and commits to investments worth at least 500 million euro.

The European Commission fears that Gazprom paid a price much lower than the real one, in exchange for Russia's support to Belgrade in the Kosovo independence problem.


Jan 21, 2008 - Nine O'Clock
Putin bags multi-billion-dollar energy deals in Bulgaria
by Ioana Dragan


The contracts were slammed by local politicians and analysts as a 'heavy blow' for Romania, aimed at isolating the country on the energy market.

Russian President Vladimir Putin wrapped up a two-day visit here Friday, heading home with a bunch of major contracts in his suitcase that will strengthen Moscow's grip on European energy markets. Of the eight different deals that were signed by Moscow and Sofia during the visit, the most important concerned the South Stream pipeline project. That is a gas pipeline being built by Russia's Gazprom and ENI of Italy which will cross the Black Sea into Bulgaria and then split into two arms, one going northwest to Austria and the other south to Greece and then west to southern Italy. It will strengthen Moscow's grip as the leading supplier of gas to Europe and will rival EU plans for its own pipeline project, Nabucco, aimed at reducing the bloc's dependence on Russian gas.

The visit was dominated largely by economic issues, as Putin appeared to be on a last major drive for Russia's energy interests abroad before he steps down.

A contract was signed on the construction of a EUR 4 bln 2,000-megawatt nuclear power plant in the town of Belene on the Danube. The contractor, Russian company Atomstroiexport, hailed it as "an important victory that opens the way to Russian nuclear technology in Europe."

Putin's third major coup was a contract setting up a joint company for the Burgas-Alexandrupolis pipeline to channel Russian oil from the Black Sea to the Aegean. The project, which has been talked about for 14 years, is seen as an alternative to the tanker-congested Bosphorus Straits. Critics argue that the raft of different deals will only cement Bulgaria's dependence on Russian energy. Both Putin and Parvanov rejected such suggestions.

Heavy blow for Romania

Social-Democrat leader Mircea Geoana said on Saturday that the energy deals signed by Russia and Bulgaria represent a heavy blow to Romania's energy interests in the region. "We are, at the moment, caught in a trap, as regards the Russian Federation's use of energy resources," Geoana said, adding that the policies Romanian authorities have adopted in relations with Russia in the past few years have only made things worse.

Geoana added that it was unacceptable that Bulgaria signed an important contract for Russian equipment for the Belene nuclear plant. Earlier, the Social-Democrat leader had said that the South Stream project practically continues a programme to isolate Romania on the energy market, which was begun by the Russian Federation together with other countries in the region. Geoana also said that national energy strategies must be reconsidered in this context. PSD MEP Adrian Severin also criticised the South Stream project as being "outside European logics." The deal clearly shows the difference in competition practices between the European Union, in which any decision requires consensus of all 27 members, and Russia, which "moves quickly," he said. Severin added that the existence of such projects as the South Stream reduces Romania's chances to see its legitimate interests satisfied, given its participation in the Nabucco project.

Greater Romania Party leader Corneliu Vadim Tudor said that Putin's choice to sign these deals with Bulgaria is a consequence of President Traian Basescu's absurd policies. "This shouldn't have happened but we get ruled out from anywhere, from all (pipeline) routes. All pipelines avoid us," he said.

Relations between Romania and Russia have plummeted lately, amid several unresolved conflicts and especially in the context of Romania's closeness to the United States. All meetings between Putin and Basescu filed to address any thorny issues, triggering wide criticism in Romania against Basescu's policies with Russia.

In addition, Romania has recorded the highest deficit in its trade relations with Russia, as it imports oil and natural gas and exports are stalling at low values. Romanian businessmen' efforts to boost exports on the Russian market were unseccessful until now. Moreover, the price Romania pays Gazprom for gas supply is one of the highest among European countries.

Dec 28, 2007 - HotNews.ro
A freezing Nabucco?
by V. Olaru

The EU-supported Nabucco natural gas pipeline project aimed at connecting the Caspian fields with Europe is jeopardized by insufficient reserves, an aggressive policy from Russia and the failure of Turkey to intervene in due time, according to energy experts quoted by Turkish Daily News, cited by Romanian monitoring agency Rador.

Worse, recent natural gas accords between Russia and Turkmenistan come for many as a signal that Turkey's dream of connecting East and West through pipelines is on course of collision with reality, according to the paper.

The Nabucco project involves a pipeline due to cross Turkey, Bulgaria, Romania and Hungary to Austria. It was approved by five countries in June 2006. But Nabucco has been falling under increased pressure from several energy deals concluded by Russia.

The latest of these occurred on December 20 as Russian President Vladimir Putin signed an accord with Turkmenistan and Kazakhstan to build a large pipeline along the Caspian Sea, due to be finalized before 2010, a move which may deplete the potential sources considered for Nabucco.

Turkish Daily News quotes energy expert Hasan Selim Ozertem according to whom Turkmenistan is pumping some 60 billion cubic meters of its annual natural gas production to Russia and another 30 billion cubic meters to China and despite its vast reserves it does not have the proper production capacity to supply the Nabucco pipeline.

Ozertem believes Turkey should convince the European Union to invest in Turkmenistan, as Central Asian countries eager to fill their treasuries would rather favor palpable projects provided by Russia and not the promises of EU and Turkey.

Nov 16, 2007 -- HotNews (SEE also longer news article)
Europe sees first natural gas line off Russian land

Monday, November 18, Europe will see the opening of its first natural gas pipeline providing gas from the Caspian Sea area without crossing Russian territory. The natural gas is extracted in Azerbaijan and crosses Turkey, reaching Greece.
Leaders from Greece, Turkey, USA, Azerbaijan, Georgia and Italy will participate in the official opening of the project, known as the "South European Gas Ring". The construction of the pipeline begun in July 2005.

Arriving in Greece, the line follows the route of the Marita river. Plans are to expand the line towards Italy, through an underwater duct crossing the Adriatic Sea. The construction of this segment is scheduled to begin in 2008 and end in 1012. The European Union participates in the financing of this project with 130 million euros.

The new gas pipeline has a 700,000 cubic meters per day capacity, representing 250 million cubic meters per year.

June 5, 2007 -- Jamestown Foundation
Caspian Energy Transit projects: "Time to Advance Talking to Acting"
by Vladimir Socor

Russia's monopolistic agreements on energy transit, signed in rapid succession with three Central Asian countries and Austria (see EDM, May 14, 16, 17, 29, 31) sent yet another wake-up call in Washington, sending U.S. officials urgently to assess the situation in the Caspian region. The European Union does not yet seem to be moving in that direction, however.

On May 30, U.S. Vice President Richard Cheney's Deputy Assistant for National Security Affairs, Joseph Wood, conferred with Azerbaijan's President Ilham Aliyev and Industry and Energy Minister Natig Aliyev in Baku. The U.S. official reassured Azerbaijan that Washington would persist with the policy of opening direct access to Central Asian oil and gas through Azerbaijan and Georgia and will be holding intensive talks with the leaders of Kazakhstan and Turkmenistan to that end.

For his part, Minister Aliyev realistically pointed to the "fierce competition over energy corridors" and called for a more active U.S. involvement in policies that promote energy security. Focusing on the Nabucco and Turkey-Greece-Italy gas transport projects -- the necessary upstream sources of which are Azerbaijan and Turkmenistan -- Aliyev called for negotiations on specific details. Azerbaijan proposes holding a meeting among the partner countries to sign an agreement on the Nabucco project and start its implementation soon. "The time has come to advance from talking to acting," he remarked (Azertaj, Trend, May 30).

During the May 30 meetings, Wood encouraged Azerbaijan to develop an active dialogue with the new Turkmen president, Gurbanguly Berdimuhamedov. On the following day, Azerbaijan's President Ilham Aliyev telephoned Berdimuhamedov to propose meeting each other personally as well as to hold a session of a bilateral intergovernmental commission soon. (Turkmen TV Altyn Asyr, May 31). President Aliyev has already made several overtures to Berdimuhamedov since January, when the latter took office. Risking Russia's displeasure, Azerbaijan is anchoring the efforts to involve Turkmenistan and Kazakhstan in energy transport projects westward.

On June 1, U.S. Principal Deputy Assistant Secretary of State Steven Mann held talks with Berdimuhamedov in Ashgabat. In the concluding press briefing, Mann reaffirmed that U.S. support for the trans-Caspian gas pipeline project -- Turkmenistan-Azerbaijan and further via Georgia and Turkey to Europe -- "remains unchanged as it has for the last 12 years" and urged Turkmenistan to cooperate with Kazakhstan and Azerbaijan to that end. Publicly at least, Mann nodded to various "multiple-pipeline" projects -- such as the Turkmenistan-Afghanistan-Pakistan and Turkmenistan-China projects, unrealistic both. But he did underscore the unique commercial advantages for Turkmenistan to sell its gas in Europe directly.

However, the Turkmen presidency's communiqué and the state media (as monitored internationally) did not seem to mention the trans-Caspian project in their accounts of Mann's visit. They did mention the Turkmenistan-China pipeline project that same day in connection with a Chinese ministerial delegation's visit (Turkmen TV Altyn Asyr, Interfax, June 1).

That same day in Moscow, Russian President Vladimir Putin and Prime Minister Mikhail Fradkov reaffirmed the intention to rush the expansion of the Central Asia-Russia gas pipeline system, with the intergovernmental agreement to be ready for signing on September 1, 2007, by Russia, Turkmenistan, Kazakhstan, and Uzbekistan (Interfax, June 1). The reconstruction/expansion is intended to start in the first half of 2008 for the pipeline stretch that detours through Uzbekistan en route to Russia and in the second half of 2008 for the direct Turkmenistan-Kazakhstan-Russia stretch.

The intent is to restore the Soviet-era system's throughput capacity to 90-100 billion cubic meters annually by 2010 (from some 50 to 60 billion cubic meters at present, due to wear-out) and further expand it later on, correlated with expanding gas production in Turkmenistan. To ensure that the anticipated production growth is routed to Russia as well, Gazprom and other Russian companies are to be tasked with gas field development in Turkmenistan onshore and offshore.

Putin and Fradkov were talking to the press at the conclusion of their June 1 meeting with Kazakh Prime Minister Karim Masimov, whose country plays the role of transit country for Turkmen gas to Russia under those agreements. During Masimov' Moscow visit, KazMunayGaz and Gazprom finalized and signed the agreement on a joint venture to process Kazakh gas at Gazprom's Orenburg plant in Russia. The plant is being turned into a parity joint venture, with Kazakhstan paying $350 million to Gazprom for the 50% Kazakh stake. In addition, Kazakhstan and Russia shall each invest $250 million in the Orenburg plant's modernization. The plant shall process between 5 billion cubic meters (in the first stage) and 15 billion cubic meters (in the second stage) of Kazakh gas annually, over a 15-year period.

The source of that gas will be Karachaganak, the super-giant onshore field under development by the Karachaganak Petroleum Operating (KPO) consortium. The stakeholders are Italy's ENI (as project operator) and British Gas, with 32.5% each; ChevronTexaco with 20%, and Russia's Lukoil with 15%. A joint Russian-Kazakh trading company, KazRosGaz, shall purchase the gas from KPO at an undisclosed price (a commercial secret, according to Masimov), have the gas processed at Orenburg, and sell the product at market prices in Europe by piping it via Russia through the "single export channel" -- official designation for Gazprom's pipeline system (Interfax, June 1).

This deal ties up much of Kazakhstan's known gas export potential until about 2015. While in Moscow, Masimov declared that Kazakhstan would go ahead with the entire set of agreements signed with Russia, which he described as "advantageous" for Kazakhstan, particularly -- as Masimov
pointedly noted -- since "there have been no specific offers on the trans-Caspian pipeline" (Ekho Moskvy, June 1).

The United States and European Union may yet be able to salvage the Caspian transit projects necessary to their energy security. To do so, they must make specific offers to Turkmenistan and Kazakhstan about prices; demonstrate to these countries that the investments for the transit projects can be lined up soon; support the leaders of these countries politically, so as to offset Russian pressures that these countries can not alone bear; and involve top U.S. and EU leaders in negotiations in the months and weeks remaining until September, when Moscow wants to sign the intergovernmental agreements with Turkmenistan and Kazakhstan.

May 24, 2007 -- Hotnews
Socar representative to Bucharest: Romania will be second gate for Azeri resources in Europe

Nabucco route linking Azerbaijan with Romania (Graphic: Rompres)
The biggest oil and gas company in Azerbaijan, Socar, has opened an office in Bucharest with the stated goal of looking for business opportunities in Romania, a possible investment in a Romanian refinery included. A strong supporter of the Nabucco energy project, Azerbaijan - through SOCAR - is one of the few Caspian countries acting independently of Russia.

Hamza Karimov, head of the SOCAR office in Romania, spoke for HotNews.ro about the intentions of his company.

Karimov said that Azerbaijan reported 30 million tons of crude in 2006 and forecasts a production of 44 million tons for 2007 and is looking for new markets. Though its position on the Black Sea coast and with its port city of Constanta, Romania is a very important country in Azeri plans in this regard, he said.

Socar now allows itself to do sell oil and gas directly to foreign markets, with no intermediaries, and Romania is one country included in related Azeri plans, he said.

In the oil sector, politics matter a lot and Romania was the second country worldwide to have recognized the independence of Azerbaijan in the nineties, he said. Practically, Romania will be the second entry gate for Azeri resources in Europe, he said.

But for now, Socar was exploring the market and had no palpable plans yet, he said.

He said he did not have any data about Azeri media reports according to which Socar had already signed a contract on crude deliveries with Romanian company Rompetrol and thus could not confirm the information.

Speaking of the options of other Caspian countries about collaborating with Russia on oil deliveries towards Europe, Karimov said "any country has the right to choose whatever Russia wants. Those countries will decide what they want to do. We cannot meddle with their policies".

May 24, 2007 -- Hotnews
OMV-Gazprom memorandum, a threat to Nabucco project?

Russian giant Gazprom and Austrian group OMV have signed a memorandum to jointly control the Austrian natural gas distribution center in Baumgarten in North Austria, Gazprom spokesman Sergey Kuprianov has said, quoted by Reuters. Kuprianov did not say, however, what the role Gazprom will have in the deal.

The memorandum was signed by Gazprom CEO Aleksey Miller and OMV president Wolfang Ruttenstorfer during President Vladimir Putin's visit to Austria.

Putin said on the occasion that some 30 contracts were concluded between the two states during the visit, involving mainly the energy and car-making sectors. The contracts have a total value of about 3 billion euro.

Putin assured Austria that Russia would continue to supply natural gas to the European country until 2027.

The new deal may raise a series of issues with a major project that Romania's been involved in - the Nabucco gas transportation project linking Central Asia to the EU. The Nabucco project was due to avoid Russia by using another route that included Romania and Austria.

But during a visit to Kazakhstan and Turkmenistan two weeks ago Putin said Central Asian gas would ultimately be transported through Russia.

April 3, 2007 -- Hotnews
FIVE COUNTRIES TO SIGN ACCORD ON CONSTANTA PIPELINE
See pipeline route map top right (Source: Conpet.ro)

Romania, Croatia, Serbia, Slovenia and Italy are due to sign an accord for the construction of a pan-European oil pipeline in Zagreb on Tuesday. The pipeline will bring Caspian and Central Asian oil to Trieste, Italy via the Romanian city port of Constanta. The 1,856 km-long pipeline will be capable of carrying 40 million tons of oil annually in a first phase, with capacity due to grow to 90 million. The total costs for the system to become operational are estimated at 2,62 billion USD and may grow to 3,96 billion USD according to the quantity of annual oil deliveries.

January 16, 2007 --Jamestown Foundation
HUNGARY AND THE NABUCCO PROJECT: TIME TO END THE AMBIGUITY
by Vladimir Socor

In its comprehensive package of strategy documents, "Energy Policy for Europe," just released in Brussels, the European Commission has proposed appointing a European Coordinator for the planned Nabucco gas pipeline, deemed a "critical project" by the EU (Press release, January 10). The pipeline is designed to carry some 30 billion cubic meters of Caspian and Middle Eastern gas to Europe annually, its first stage to become operational by 2011 if construction starts this year as planned (see EDM, June 30, July 3, September 20, 2006).

The countries along the 3,300 kilometer pipeline route -- Turkey, Bulgaria, Romania, Hungary, and Austria -- formed a consortium in 2006 with strong EU encouragement, in an effort to diversify gas supplies to the EU away from overdependence on Russia's Gazprom. That dependence is especially heavy in the EU member countries involved in the project, which therefore answers to their national interests as well as to common EU interests. The European Bank for Reconstruction and Development agreed last year to finance 70% of Nabucco's construction costs.

During a January 15 meeting with his Romanian counterpart Traian Basescu, Ukrainian President Viktor Yushchenko announced that Ukraine is also interested in joining the Nabucco project and would submit specific proposals in this regard (Rompres, Interfax-Ukraine, January 15).

For its part, Gazprom seeks to stop the Nabucco project at both ends. Upstream, it resists the proposed trans-Caspian pipeline from Turkmenistan and Kazakhstan. That line would carry gas via Azerbaijan and Georgia to eastern Turkey for the Nabucco pipeline to Europe. Downstream, Gazprom apparently counts on leading elements in the present Hungarian government to thwart this EU project. Gazprom intends to prolong its own Blue Stream pipeline from Turkey along the same route, via Bulgaria and Romania, into Hungary, using the latter country for Gazprom's further expansion into Central Europe.

Although Hungary is a member of the Nabucco consortium, the Hungarian government and the MOL oil and gas company are negotiating with Gazprom at the same time and concluded documents of intent with the Russian monopoly. Moreover, top officials such as Prime Minister Ferenc Gyurcsany and Economics Minister Janos Koka are implicitly or explicitly signaling their preference for Gazprom. These signals contradict EU policy as well as ignoring U.S. recommendations for Hungary to opt for Caspian gas via Nabucco.

A decision by Hungary to go with Gazprom's project while procrastinating on Nabucco would result in cutting off this pipeline route for Caspian gas to Europe. It would also render the Nabucco project commercially nonviable for Bulgaria and Romania along the route, as well as expose Austria to deeper inroads by Gazprom. In practice, the wrong decision by the Socialist-led Hungarian government could kill the Nabucco project for all the other participants and for the EU as a whole.

The issue of Hungary's position on Nabucco, and generally of Gazprom's opaque actions in Hungary, is turning into a major issue in that country with international ramifications. The Fidesz opposition party is casting the issue mainly in non-political terms, focusing on the need for diversity in the energy market, alternative supply sources and routes, transparency of negotiations, and public accountability.

However, the government's apparent tendency to break ranks with the EU and its neighbors on this issue while maximizing the country's dependence on Russian energy has obvious political implications as well. In recent media interviews, Fidesz leader (and former prime minister) Viktor Orban and the parliamentary Foreign Affairs Committee chairman Zsolt Nemeth have cautioned against a policy that might result in Hungary slipping back into Moscow's sphere of influence, this time not ideologically or militarily but rather in the sense of economic influence through special interests, affecting the country's political independence (see Budapest Analyses, no. 133, January 16).

The present government has allowed Hungary to become a base for operations of Gazprom's suspect offshoots, in the lineage of EuralTransGas and RosUkrEnergo. These groups' founding father, the FBI-most-wanted Semyon Mogilevich, operated for several years in Hungary before moving to Moscow. The RosUkrEnergo branch in Hungary, Emfesz, has made deep inroads into Hungary's energy market. It sold 2.6 billion cubic meters of gas -- mostly of Turkmen provenance -- in Hungary in 2006, amounting to one-quarter of all imported gas in the country. It plans to expand that share and to become a major player also on the electricity market.

Gazprom itself currently supplies some 85% of Hungary's gas requirements. Prolonging Gazprom's Blue Stream pipeline into Hungary and building storage sites in the country for Gazprom's further expansion into Europe would seal Hungary's long-term dependence on this monopoly, precluding alternatives.

Gyurcsany and other government officials have more than once expressed confidence in Russia's reliability as an energy partner and the desirability of special bilateral relations with Russia in this regard. Koka and other officials have publicly deprecated the feasibility of the Nabucco project, thus intentionally or unintentionally undermining investor confidence.

Those statements were made before the recent, predatory moves against Western energy projects in Russia and interruptions in Russian oil transit via Belarus, all of which shattered the already diminishing European confidence in Russia's reliability or in bilateral dealings with Russia. These events, as well as the EU's latest reaffirmation of support for the Nabucco project, might register even with this Hungarian government.


November 1, 2006 www.hotnews.ro
Russian energy monopoly makes Black Sea reforms difficult

The Black Sea reforms become increasingly difficult because of the Russian energy monopoly in the area, said president Basescu on Tuesday, during a video conference intervention in the international conference on "Black Sea Economic development and security".
Basescu believes that the regressing liberalization and privatization in Russia should determine the Unites States to include the Europe-Asia energy strategy in the trans-Atlantic dialogue agenda.

"The economy and the politics are closely tied. Promoting the reforms in the entire Black Sea area becomes increasingly difficult because of the Russian monopoly on energy (…). Romania is currently looking for co-operation opportunities with the Black Sea countries, designed to ensure a long term economic development of the region.
The most important thing is to develop alternative gas and oil transportation routes from the Caspian Sea, through the Black Sea and towards the European Union", said Basescu.
The Black Sea region currently provides for 50% of the European energy needs and aims at a 70% ratio during the following ten years, according to the Romanian president, who considers that Russia' exclusivity in transportation would lead to a more and more important influence in the EU policies.

October 13, 2006 www.daily-news.ro
Basescu tackles Nabuco project with Azeri counterpart
Andreea Pocotila

President Traian Basescu and his Azerbaijani counterpart, Ilham Aliyev, on Wednesday discussed the construction of new pipes for the transport of gas and petrol into the European market, according to a press release from the presidential administration.
Basescu said the Constanta-Pancevo-Trieste pipeline and the Nabuco one are of great interest both for Romania and the European Union, as alternatives for the supply of energy, oil, and gas into the EU member states.
Ilham Aliyev said his country is interested in the Nabuco project, as he finds it very attractive and interesting and underlined Azerbaijan's will to take part in the project.
"The Nabuco project is based on supplies with gas from Azerbaijan, first of all, and from the Caspian Sea region. Consequently, if I can say so, we are the key element of this project because, without Azerbaijan, this project is useless," he said.
He pointed out that his country is in the last phase of the construction process of the gas pipeline between Azerbaijan and Turkey.
Another subject tackled during Basescu's visit to Azerbaijan was the support Romania is going to offer to this country for its accession into NATO.
Ilham Aliyev said there are no differences of opinions between his country and Romania regarding the need for security and peace consolidation in the region.
Basescu assured his counterpart of Romania's full support for these purposes.
Upon his return to Romania, Basescu told journalists the visit impressed him and advised all those in doubt about this country to visit it.


October 5, 2006 www.daily-news.ro
Russia not interested in Nabucco project
Robert Comanoiu

The Nabucco project is in abeyance, as Russia will participate in the construction of another natural gas network, said Iulian Iancu, a former state secretary in the Ministry of Economy and Commerce (MEC). "A new gas network is being built, in which Russia is involved, and the new route goes around Romania and Bulgaria," said Iancu.
The official said the project regarding the construction of an underground gas reserve is also blocked because Gazprom closed with the Hungary-based gas provider an agreement in this purpose.
Minister of Economy Codrut Seres said last week the coordination committee of the Nabucco project could ask Gazprom to participate in the construction of a natural gas transportation network from the Caspian Sea region to Europe or to supply a part of the gas that will be transported trough the pipeline.
"In a meeting that will take place in Vienna, in November, to which Gazprom officials were invited, it is possible they will be asked to join the project or for the gas they supply to be transported through the pipeline," said Seres.
Gazprom announced its interest in May regarding the Nabucco project, showing that the company has both the market and the resources to make the project work.
Seres believes there are few chances for the project not to function as planned, as long as Turkey, Austria, Hungary, Bulgaria and Romania have signed an agreement for the construction of the project.
The Nabucco project is estimated at 5.8 billion dollars and the companies that will construct the pipeline are Botas (Turkey), OMV (Austria), MOL (Hungary), Bulgargaz (Bulgaria) and Transgaz (Romania).


July 31, 2006 www.daily-news.ro
President argues for oil pipeline
Monica Bonea

President Traian Basescu said Friday that his country is better situated than Bulgaria for a planned oil pipeline from the Black Sea traversing the Balkans to Western Europe, according to Voice of America. Numerous pipelines are planned to get crude from the newly developed oil fields of the Caspian Sea basin to world markets, VOA's Web site says. One, from Azerbaijan to Georgia to eastern Turkey - the 1,700-kilometer BTC (Baku-Tbilisi-Ceyhan) pipeline - is built and recently started operating. Turkey is proposing that other lines be constructed across Turkey from the Black Sea to the Mediterranean to carry Caspian oil coming by tanker from the Russian port of Novorossiysk.
On the European shores of the Black Sea, Romania and Bulgaria are promoting rival projects to transport Caspian oil west across the Balkans closer to western markets, according to VOA. President Basescu, a former ship captain, says the Romanian port of Constanta is the logical starting point for a trans-Balkan pipeline.
"Constanta is the single harbor on the Black Sea, on the European side of the Black Sea, that can accommodate vessels of 150,000 tons deadweight, which is the maximum size that we can accommodate," he said. "And the other harbor that can do that is Novorossiysk."
Basescu doubts that two Balkan pipelines will be built. Greece is proposing a third and shorter route that would go from Bulgaria to the Greek port of Alexandroupolis. All of these proposals would have the effect of reducing oil tanker traffic through the crowded, environmentally fragile Straits of Bosporus at Istanbul. Richard Ennis of ING Bank in New York says there are other advantages to the Romanian option.
"It will also reduce tanker traffic in the Black Sea," he said. "Larger vessels will be able to shuttle from the Novorossiysk terminal on the eastern side of the Black Sea across to Constanta and that will reduce the overall tanker traffic," according to Basescu.

June 26, 2006 - www.HotNews.ro
European Commission supports Nabucco project

Energy ministers from Romania, Austria, Hungary, Bulgaria, and Turkey signed a support accord in Vienna for the Nabucco pipeline that will bring gas from the Caspian Sea to Central Europe. The companies that will take part to the construction project are OMV Austria, MOL Ungaria, Botas Turcia, BulgarGaz Bulgaria and Transgaz Romania. The construction of the 3,300 km pipe is scheduled to begin in 2008 and finish around 2011. Officials of the countries involved tried to get the European Commission support for the project by accepting some exceptions to the current restrictive legislation in order to sign some long term contracts with delivery in advance. This possibility will attract funds from the European Investment Bank The EC does not admit long term projects but the Nabucco pipeline is of major importance for the Union as an alternative to the Russian gas delivery by Gazprom, and an exception is to be made, according to some EU officials.

February 15, 2006 - Bucharest Daily News -
Romania could cash in four billion dollars from the Constanta-Trieste pipeline READ:
by Adrian Hamzescu

January 4, 2006 - Bucharest Daily News
Foreign Affairs minister: Europe needs alternative energy sources

Romania can take advantage of the opportunity to become part of alternative hydrocarbon supply projects that Europe has to develop to avoid an energy crisis similar to the Russian-Ukrainian one. Europe must accelerate its connection to the oil and gas producers of Central Asia and the Caucasus and diversify its energy resources, stated the minister of Foreign Affairs Razvan Mihai Ungureanu on Tuesday. The official referred namely to the pipeline projects Nabucco and Constanta-Trieste.
Romania is directly interested in the creation of the two pipelines because it would permit the connection of the Romanian natural gas transportation network to the networks of Bulgaria and Hungary and the integration in the European system.
The Nabucco project would allow the development of international gas transportation activities and would offer an important opportunity to local chemistry and energy sectors.
As for the Constanta-Trieste pipeline it would impose the port of Constanta as one of the most important oil terminals in the region.
Ungureanu added that Romania, as temporary president of the Organization of Black Sea Economic Cooperation (OCEMN) will bring the problem of energy to the attention of the organization's members. According to him, Romania was supposed to get involved in the creation of a multinational investment company which would elaborate, finance and implement transportation, energy and communication ring around the Black Sea. The member states of the OCEMN and companies could participate to this private-public partnership.

December 22, 2005 - Bucharest Daily News
Constanta-Trieste pipeline could be constructed in 2007
by Adrian Hamzescu

Ministers from five countries including Romania could sign the agreement for the Constanta - Trieste oil pipeline in January.
"We are still waiting for a positive answer from Slovenia," said the spokeswoman of the Ministry of Economy and Trade, Iuliana Dumitru.
Romania, Serbia, Croatia, Slovenia and Italy met in Belgrade and signed an agreement in June on the construction of the Constanta-Trieste oil pipeline, according to Constanta oil terminal director Mihai Lupu.
According to the five ministers, a company which will manage the project and secure financing will be created once the treaty is signed by all the participating countries. The proposal belongs to the feasibility study developed by the British consultancy, Hill International.
The costs for the pipeline are estimated between 2.2 billion and 4.6 billion dollars, depending on the transport capacity chosen for the oleo duct. The oil pipeline would carry up to 112 million tons of crude from the Black Sea to the European market and its construction could start in 2007.
The full length of the pipeline is of 1,360 kilometers and it should start in the Constanta harbor, pass through Serbia, Montenegro and Croatia and end in Trieste, where it will connect with the Trans Alpine Pipeline - TAP, which supplies Austria and Germany. Another connection will ensure transportation to Venice, fueling Northern Italy refineries.
Among the companies who expressed interest in the project are General Electric Energy Oil & Gas and China National Oil Corporation. Austrian oil group Petrom's major shareholder, Chevron Texaco and British Petroleum, have also shown an interest in the project.
"Pipelines are good for the economy, for the environment, and for international development, and that helps peace and stability in the region," Greece's overseas trade minister Evripidis Stylianidis said during the 12th conference of foreign ministers from Black Sea Economic Cooperation (BSEC) member states took place in Komotini, Northern Greece, in April.
Oil companies and regional governments are keen to find alternatives to shipping Caspian oil through Turkey's busy Bosporus Straits, already used to transport more than 50 million tons of oil every year. In June 2005, the new Baku-Tbilisi-Ceyhan pipeline is due to start operation, carrying Caspian oil 1,760 kilometers across Azerbaijan and Georgia to Turkey's Mediterranean coast.
Additional projects are planned to link Bulgaria's Black Sea port of Burgas to Alexandroupolis in neighboring Greece and Vlora, Albania. Bulgaria, Greece and Russia signed, on April 12, an agreement for the construction of a 700 million euro oil pipeline connecting the Black Sea with the Aegean Sea.